Directing
PLAYS
Evergreen Cemetery Lantern Tour in Pine Plains, October 22, 2018 Photo: Robert Lyons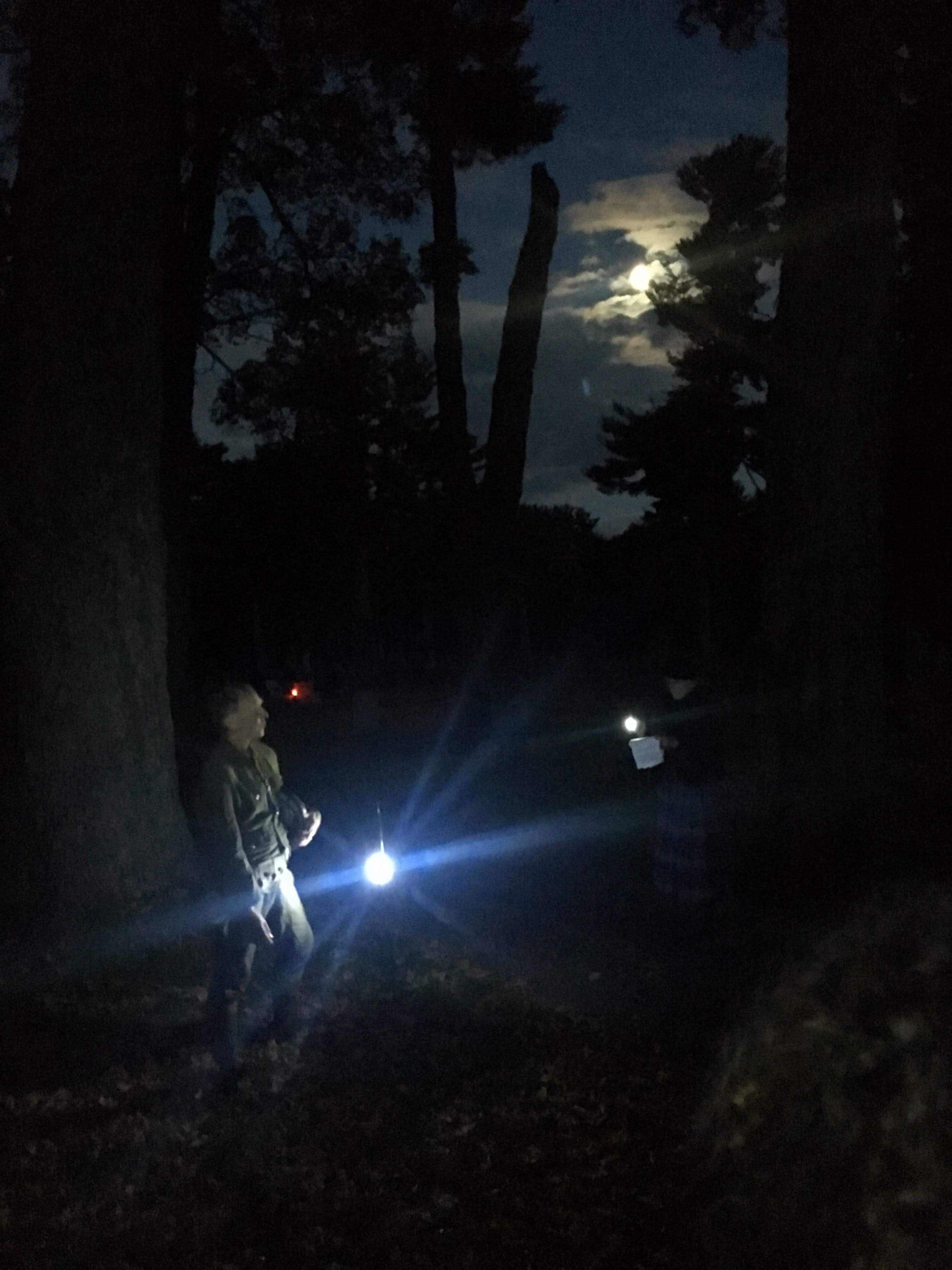 In July 2016, I was in Pisciotta, Italy, directing Purchase College students in Luigi Chiarelli's The Mask and the Face. They performed in Italian!
The Mask and the Face, by Luigi Chiarelli, Pisciotta, Italy (Purchase College), 2016
I did a staged reading of my work-in-progress, I.C./I See, which become Necessary Mountain, in October 2015 at Dixon Place.
Below are photos from the work-in-progress staged reading/rehearsals of I.C./I See, October 2015
Cast: Susan Hyon as Umiko Fujiwara, Rajika Puri as Kim Khan, with Hannah Mitchell and Rebecca Robertson.
Photos: Marianne Wafer
Staying Afloat, by Lenora Champagne, New Georges, 2009; Dixon Place, Ohio Theatre, 2010


In July 2010 I directed my play, Staying Afloat, developed at Dixon Place and through workshops and residences with New Georges and Voice and Vision, at the Ice Factory Festival at the Ohio Theatre. In Staying Afloat, two women and a polar bear find themselves adrift on a melting ice floe sometime in the near future. They strive to survive and make a community in the face of birth, death, and climate change.
"...there is real wisdom in this play, and immense imagination and stagecraft."
--Martin Denton nyctheatre.com

"Lenora Champagne's Staying Afloat...has the makings of Waiting for Godot-like existential story...the set effectively evokes isolation and longing."
--Chris Kompanek, On the Culture Front, Huffington Post
TRACES/fades, by Lenora Champagne, Here Arts Center, 3LD and Ohio Theatre, 2006 - 2008
TRACES/fades, An intergenerational performance with music and video that is a meditation on memory, loss and our national inability to remember history.
"Smart, witty, fun...Three generations of women discuss their histories, their problems and desires set against the backdrop of loss and decay....a nursing home...doubles as a surreal memory-cabaret... Images fade in and out of focus...a bodiless hand writes and unwrites names, poetry. Handwriting degenerates and disappears as an outright example of the language that constitutes us...Consciousness disappears; writing (performance?) haunts."
--Obscene Jester

"Most of the story unfolds in the nursing home where Ann now lives; Champagne and her collaborators capture the sad and vaguely surreal ambience of that place with uncanny and affecting fidelity....The production is stunning, and blessed with a wondrous cast."
--Martin Denton, nytheatre.com
TRACES/fades is published in Plays and Playwrights 2009.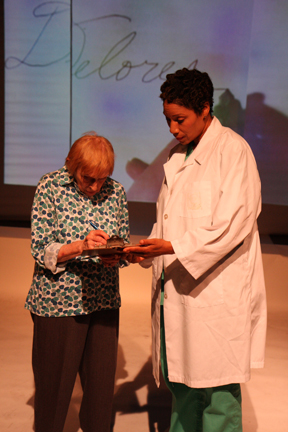 Traces/fades bears some relationship to my previous work, Eye of the Garden, in which the world of adolescent girls within convent walls was explored on a landfill bounded by the Hudson River. Working in collaboration with the performers and with sculptor Claudia Fitch and composer Glen Velez on this commissioned project for Creative Time's final "Art on the Beach" was a rich experience that resonated with spectators, evoking a lost time, queer obsessions, and silent mysteries.
Much of my work retains elements of autobiography, reflecting my belief that the strongest work implicates people (the performer as well as the audience) in addition to moving them intellectually, emotionally, or aesthetically. I ground my work in the personal and particular in order to expansively critique or reflect upon the wider world.
For example, in my solo, Mother's Little Helper, I used my mother's fifties-era church-sponsored guide to "the facts of life" to ironically comment on the encroachment of the religious right into contemporary politics and social policy. In a performance punctuated by Cajun stories, young girls' word and clapping games, and sweet potatoes, I explored the scary place girls and women currently find themselves in.
Inflation, or The Vigorous Style of the Moderns, by

House of Jones, Suzan Lori-Parks
Suzan-Lori Parks (week 50, 365 Days/365 Plays), The Public Theatre & Here Arts Center, 2007
Action in Inaction and House of Jones, by Suzan-Lori Parks, Purchase College Humanities Theatre, 2006
Scenes from plays by Eduardo de Filippo and Luigi Pirandello Pisciotta, Italy (SUNY/Purchase), 2002
Monologues from Female Parts, by Franca Rame Pisciotta, Italy (SUNY/Purchase), 2000
PRINCIPIA, by Sung Rno New York Theatre Workshop, 1996
GRAVITY FALLS FROM TREES, by Sung Rno Dance Theatre Workshop, 1994
R.A.W.('Cause I'm a Woman), by Diana Son The Public Theatre, TWEED New Works, 1993
VINEGAR TOM, by Caryl Churchill Classic Stage Company, 1991
ISABELLA DREAMS THE NEW WORLD by Lenora Champagne Ohio Theatre, 1990
YESTERDAY'S PEOPLE, by Chris Cerasso Lincoln Center Institute, 1989
COYOTE UGLY, by Lynn Siefert New York Theatre Workshop, 1987

Coyote Ugly
YERMA, by Garcia-Lorca Trinity College, 1987

Big House, Little House, photo by Vivian Selbo
BIG HOUSE/LITTLE HOUSE, by Kevin Duffy Trinity College, 1987
SPRING AWAKENING, by Frank Wedekind Trinity College, 1986
FEFU AND HER FRIENDS, by Irene Fornes Trinity College, 1986

Fefu and Her Friends
HAMLETMACHINE, by Heiner Muller Trinity College, 1985

Hamletmachine
PRISONERS OF THE INVISIBLE KINGDOM by Michael Kirby (co-director) LaMama, 1982
PERFORMANCE WORKS
L'heure bleu, MacDowell Colony, Peterborough, NH, August, 2007
La Recherche du Pain Perdu, Neuberger Museum, Purchase, NY November, 2006
Love, Death, Pizza & Coffee, Pisciotta, Italy (Purchase College), 2007
Scenes & Songs by Italian Futurists, Pirandello, and Viviani
Hyeres en Passant (scenes by students) Hyeres, France (Purchase College), 2004
Memoirs of a Cajun American Princess Purchase College, SUNY, 2004
FROM THE HEART (created with participants) Sanctuary for Families/DTW Public Imaginations, 1999
SANCTUARY (created with participants) Sanctuary for Families/DTW Public Imaginations, 1998
WAVES (created with the ensemble) Snug Harbor Cultural Center, 1995
PERSISTENCE OF VISION (with E. Iverson) Williams College, 1994
NAKED WITH STEAK KNIVES & DOGS (ensm) Movement Research at Judson Church, 1993
WATER TABLE FIRE TIME (with ensemble) Maryland Art Place (Baltimore), 1992
HAUNTED HOUSES (with ensemble) University of Michigan (Ann Arbor), 1990
DR. CHARCOT'S HYSTERIA SHOWS Ohio Theatre, Oberlin College, (with Judy Dworin, Dianne Hunter) Real Art Ways (CT), Trinity College, 1988-89
EYE OF THE GARDEN Creative Time's Art on the Beach, 1985
AS READY, APART FROM HERSELF Franklin Furnace , 1986
FROM THE RED LIGHT DISTRICT Performance Space 122, 1984
DESERT PLAY, adapt., Marilyn Hacker poems Structuralist Workshop, NYU, 1976
OLD LOVE, adapt., Ilse Aichinger story Structuralist Workshop, NYU, 1976
STAGED READINGS
BOY, by Diana Son New Dramatists, 1994
THE OBJECT OF YOUR DESIRE, Maryrose Wood Women's Project, 1994
NOVELL-AAH!, by Eugenie Chan, DREAM CATCHER, by Dawn Saito, R.A.W. ('Cause I'm a Woman*), by Diana Son The Public Theatre, 1993
TALES FROM THE TIME OF THE PLAGUE, by Lynne Alvarez Classic Stage Co. , 1992
OCCUPATIONAL HAZARD, by Rosalyn Drexler Classic Stage Co., 1991
THE ODD WOMEN, by Lonnie Carter Classic Stage Co., 1990
PORTRAIT OF DORA, by Helene Cixous Ubu Rep, 1983
ASSISTANT DIRECTOR
THE TEMPTATION OF ST. ANTONY, Liz LeCompte, director The Wooster Group, 1988
WAITING FOR GODOT, Tony Taccone, director Berkeley Rep, 1989